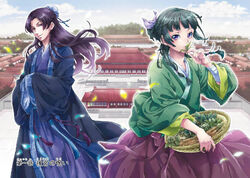 Kusuriya no Hitorigoto (薬屋のひとりごと, lit. "The Pharmacist's Monologue") is a Japanese light novel series written by Natsu Hyūga and illustrated by Touko Shino. It was serialized online since 2011 on the user-generated novel publishing website Shōsetsuka ni Narō. In the following year, it was acquired by Shufunotomo, who initially published the series as a novel with a single volume in 2012 and then in 2014 began to publish it yet again, this time as a light novel.
In the imperial court, a young woman is put into servitude, Maomao. The tale is just beginning for the woman doctor/pharmacist from the red-light district, as rumors circulate about the emperor's children's lives being short-lived. Her curious nature and thirst for knowledge pushes her to action. To satisfy her curiosity, this young doctor/pharmacist will investigate the origin! What is shifting in the imperial court?
Light Novel
Edit
In 2014, Shufunotomo began to publish the series in their Hero Bunko imprint, which is mostly made of acquired Shōsetsuka ni Narō titles. Since then, the series continued to get more volumes with the story continuing, unlike the previous novel version which had just one volume.
List of Covers
Edit
It has received two manga adaptations in 2017, with one of the same name published by Square Enix in Monthly Big Gangan from May 25, and another published by Shogakukan in Sunday Gene-X from August 19 titled Kusuriya no Hitorigoto: Maomao no Koukyū Nazotoki Techō (薬屋のひとりごと~猫猫の後宮謎解き手帳~ "The Pharmacist's Monologue: Maomao's Diary of Solving Mysteries in the Inner Palace")
List of Covers
Edit
Community content is available under
CC-BY-SA
unless otherwise noted.